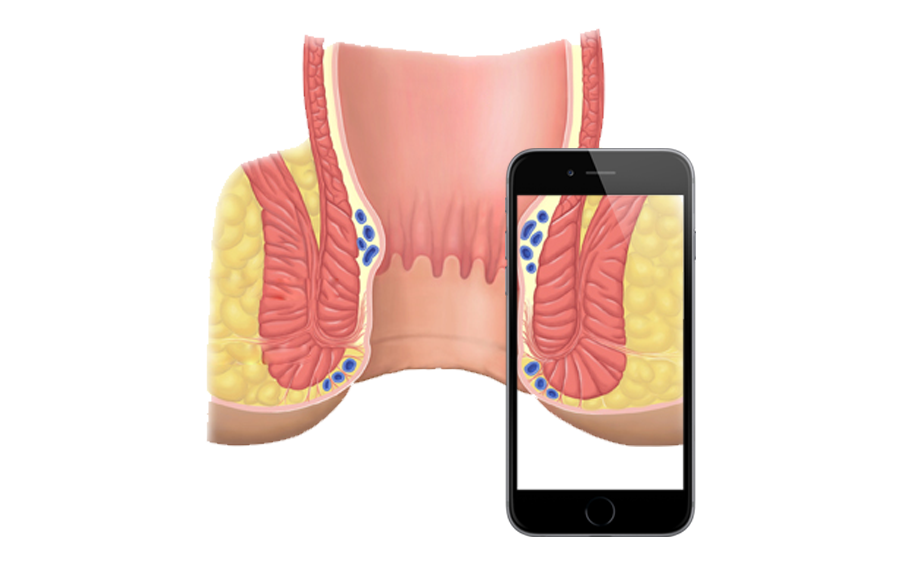 VIRTUAL SURGERY:
Need of Virtual Surgery:
It saves history of your patients with reports, diagrams, prescription etc. and saves your manual work time.
It is one click away from anywhere and anytime
Enhances your explanations to your patients
Upload live photos from surgery room or from history of patient. You can upload live images of piles, fistula from OT (Operation Theatre), print it or show it to your patients. This is virtual space created especially for doctors.
Here you can create bill, prescribe medicines or prepare discharge sheet for patients. It is helpful to doctors and patients for easy processes.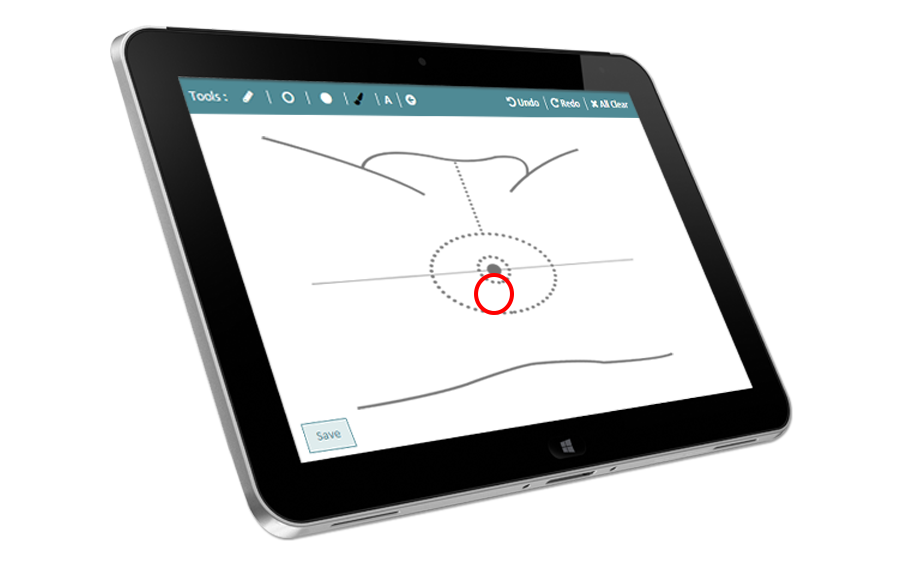 DIGITAL EXPLANATION OF DISEASE:
You can explain or describe patient's problem digitally rather than showing it on paper. You can directly print the prescription or patient records if you wish to.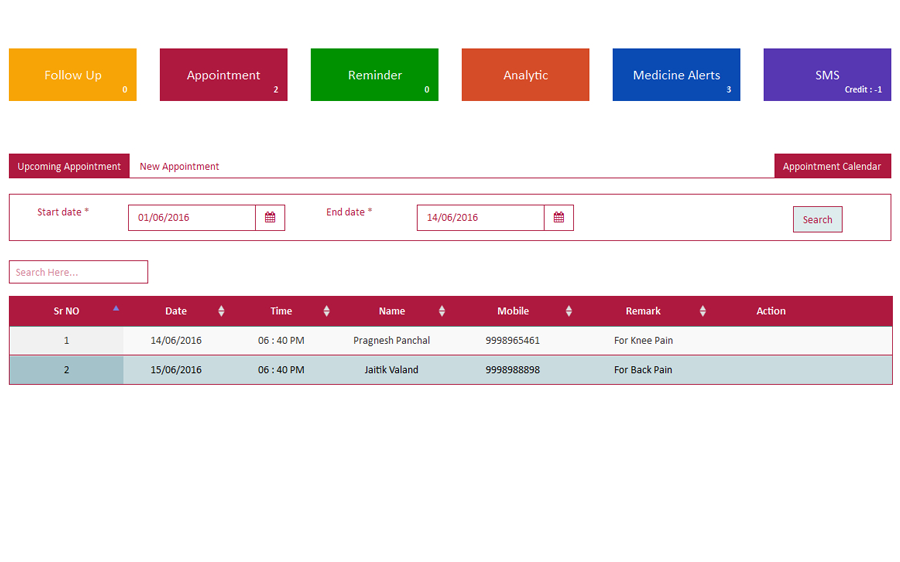 ON ONE CLICK:
Get in touch with your patients on one click through automatic SMS alert system. Through automatic SMS alert system you can inform your patients for surgery, follow up or appointment.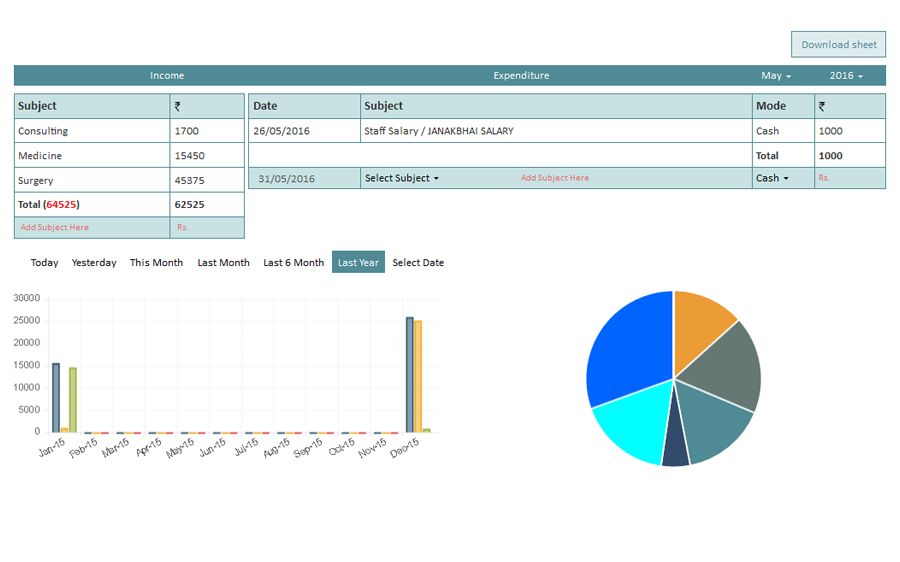 FINANCE & ADMIN:
Other management features in this software help you in daily clinic management like, prescription, accounts, Inventory and Analytic systems.
Plan your day with our dashboard. Check today's patient, reminders and your medicines notification.

Multi language supported. Type in any language like Sanskrit, hindi or etc.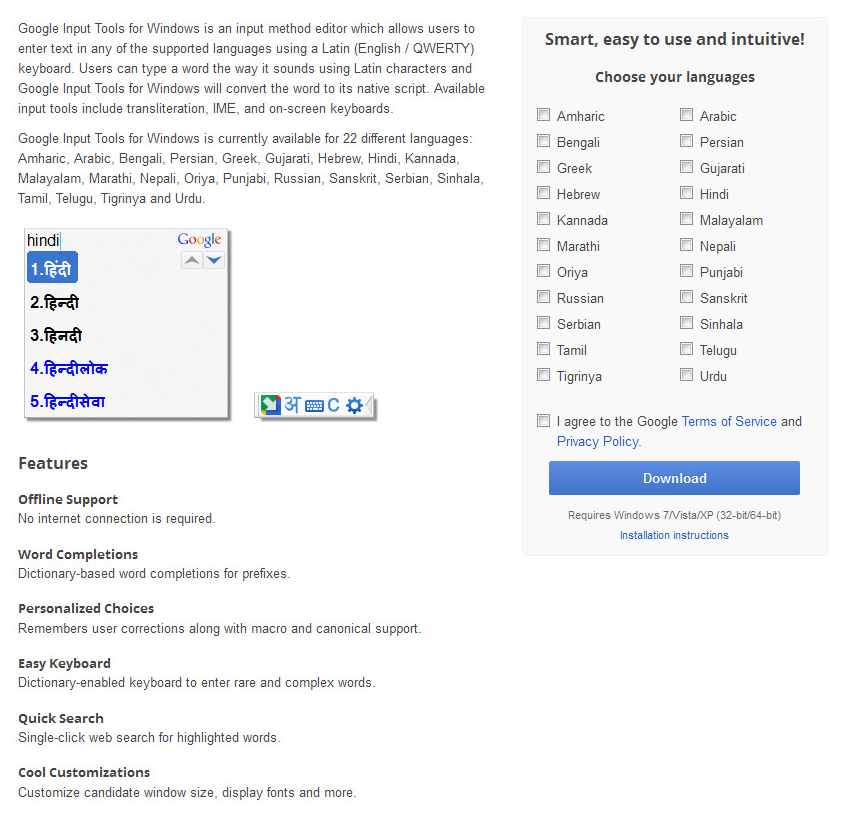 Keep your record of Panchakarma and Therapy.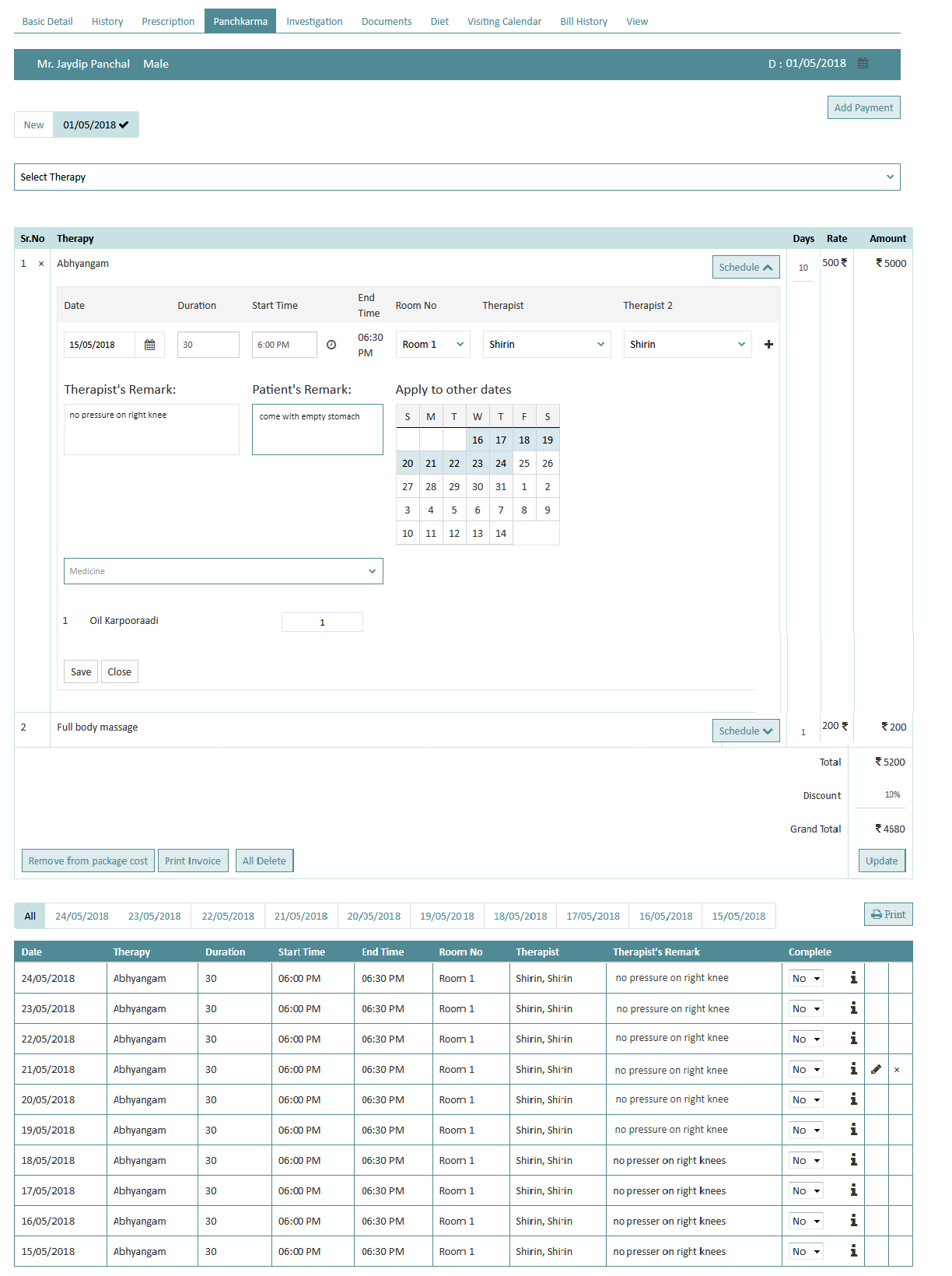 Our alert system makes you and your patient up to date. Our alert system take follow up of your patient.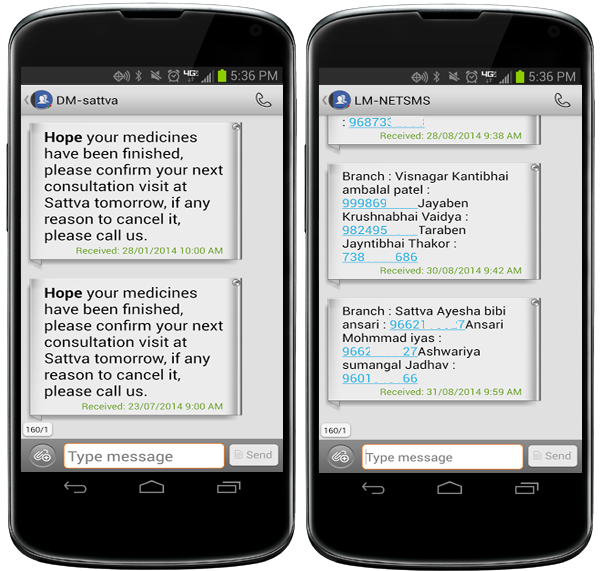 Our Inventory system keeps secured your clinic and company medicine stock with payment detail.
Our analytic chart makes you intelligence about your practice, which help you analyze your growth.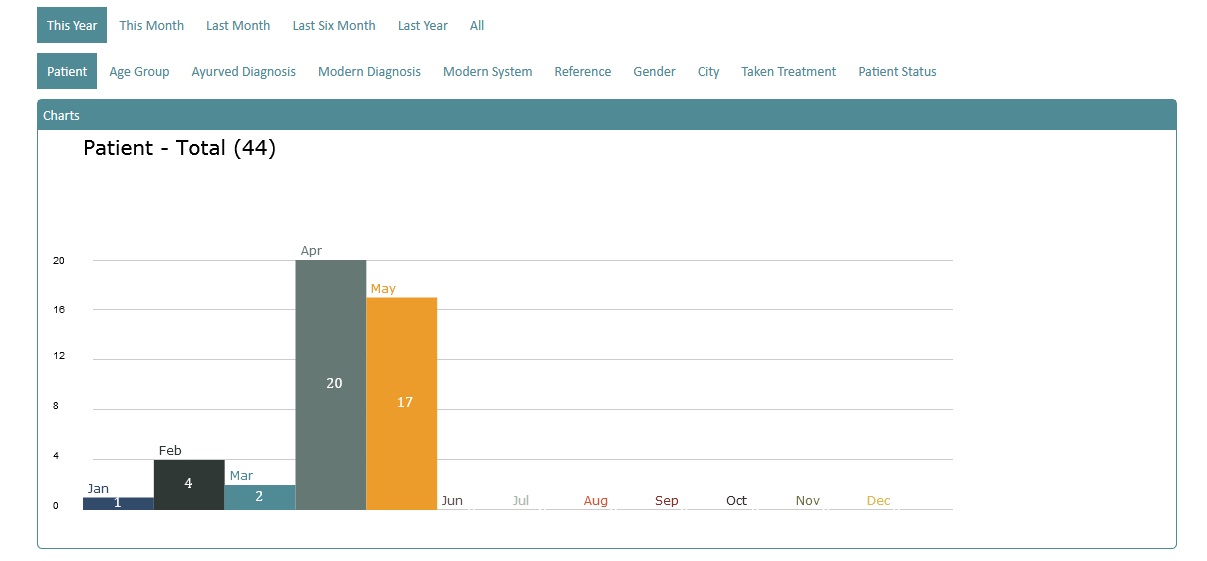 Say bye! To your accountant and get profit loss of any days by one click.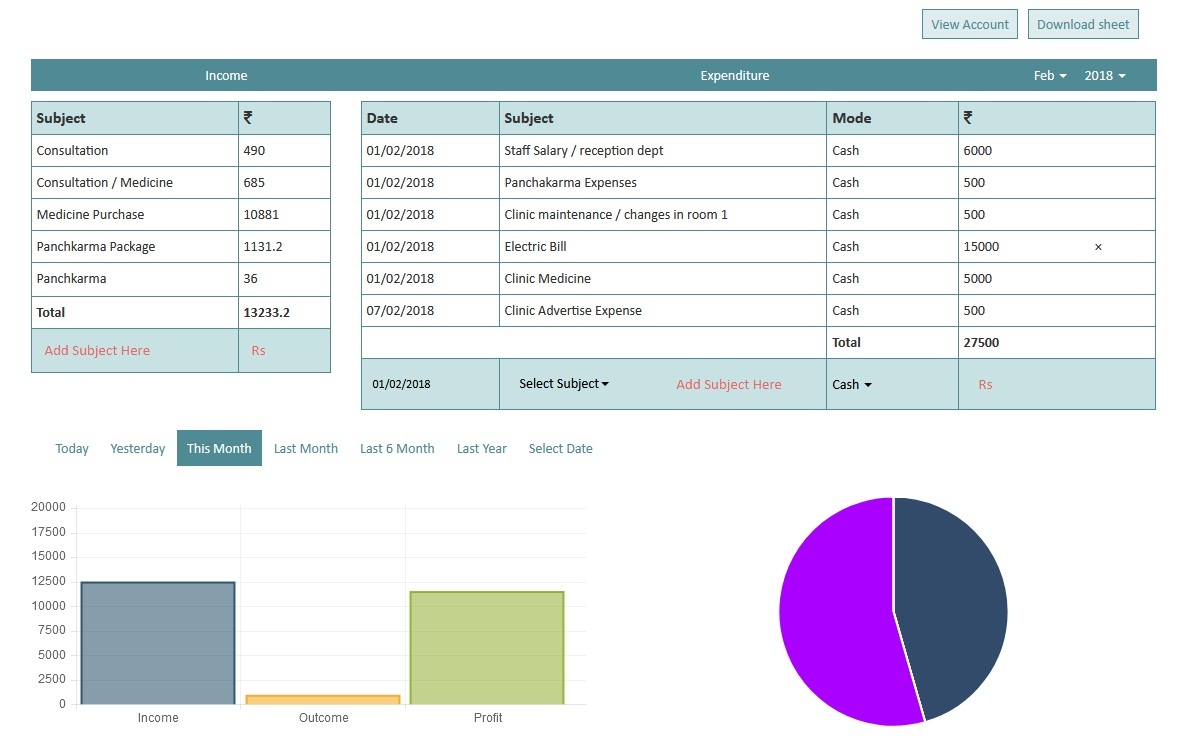 Now your patient never missed guides you about diet given by you. Email or print with customized individual.
Give your systematic managed prescription with good writing.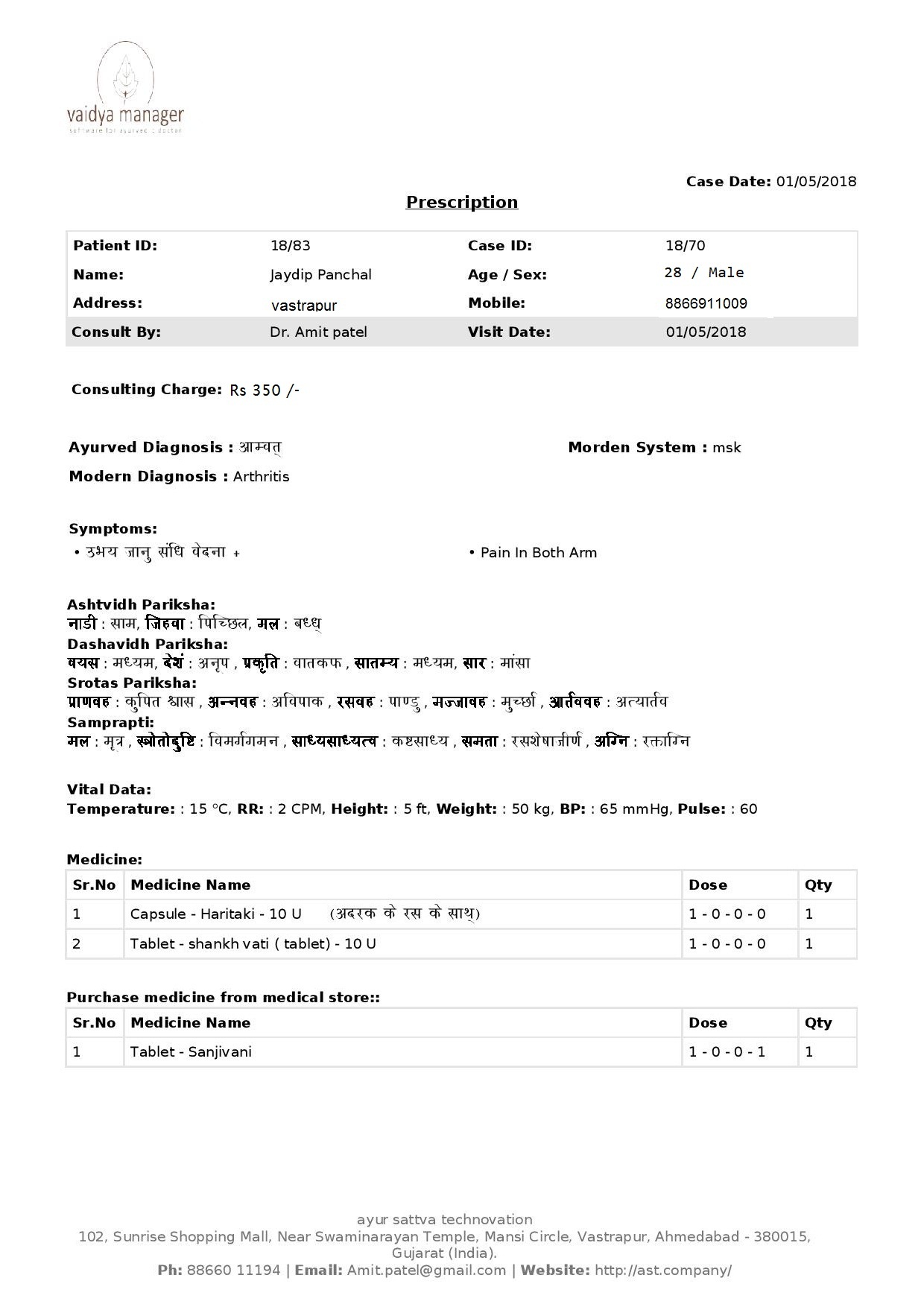 Make staff account and give access to them and get rid of your burden.

No need to worry computer all the time for small task. Our mobile app is constantly sync with your software.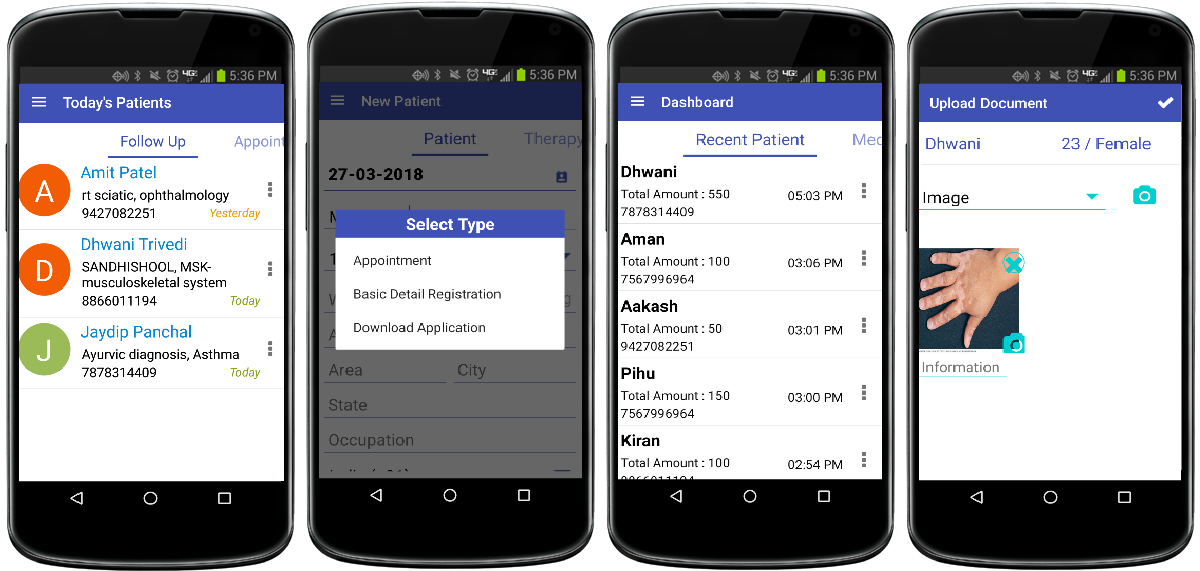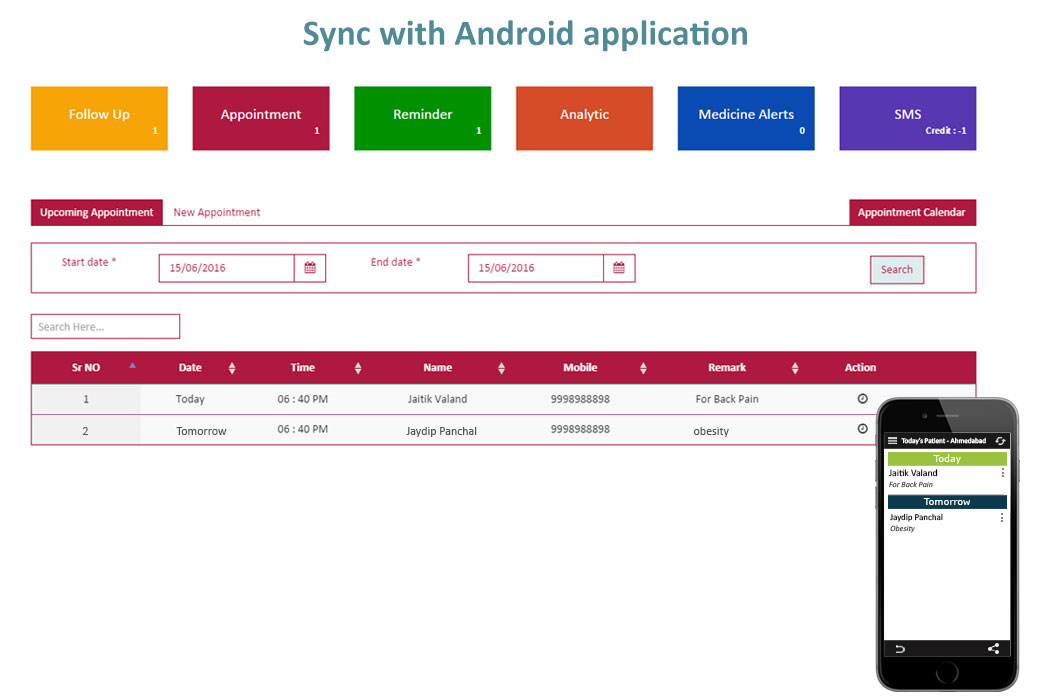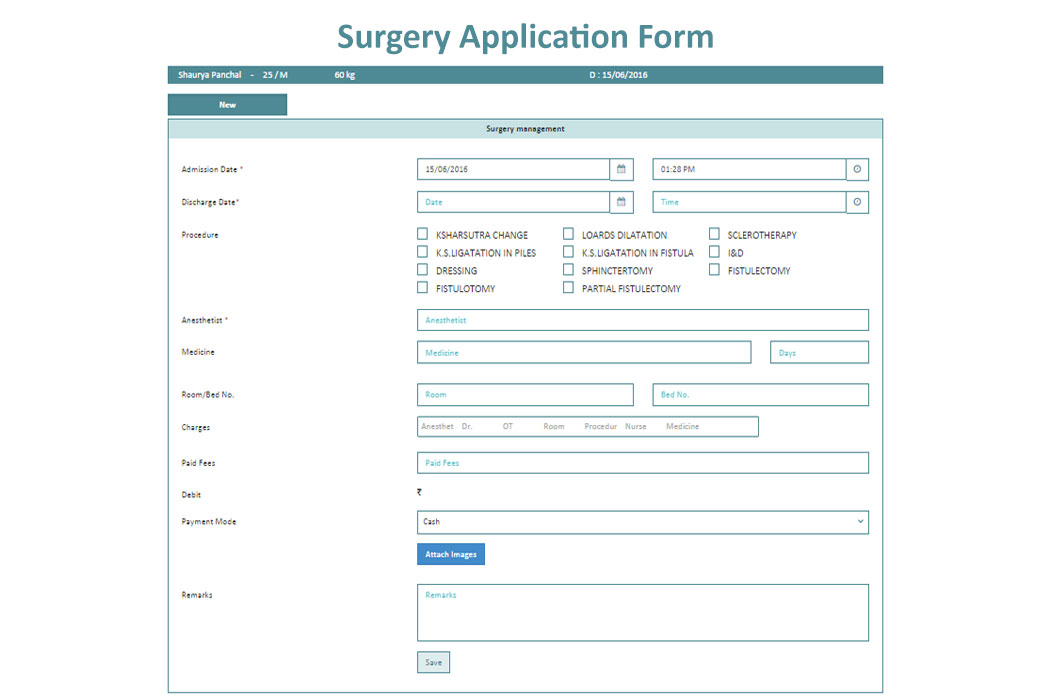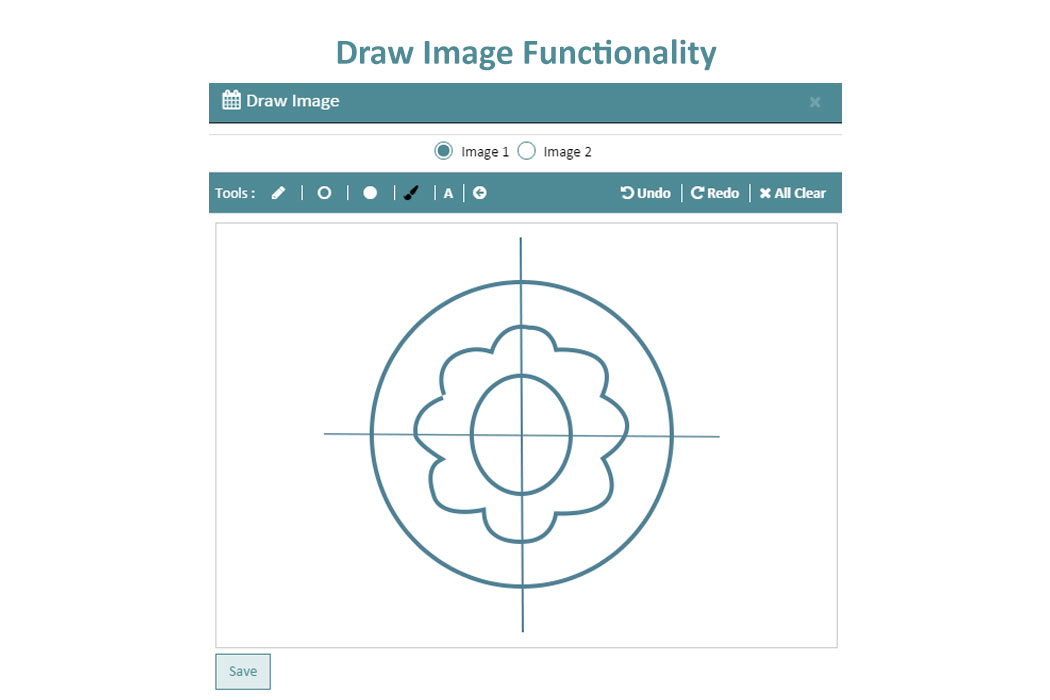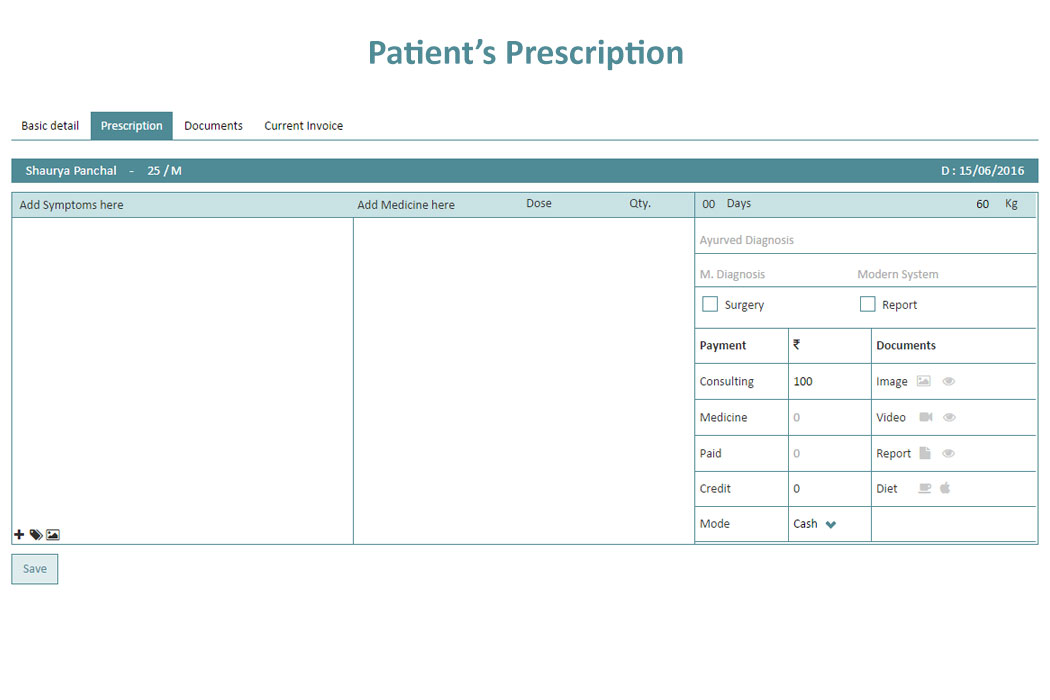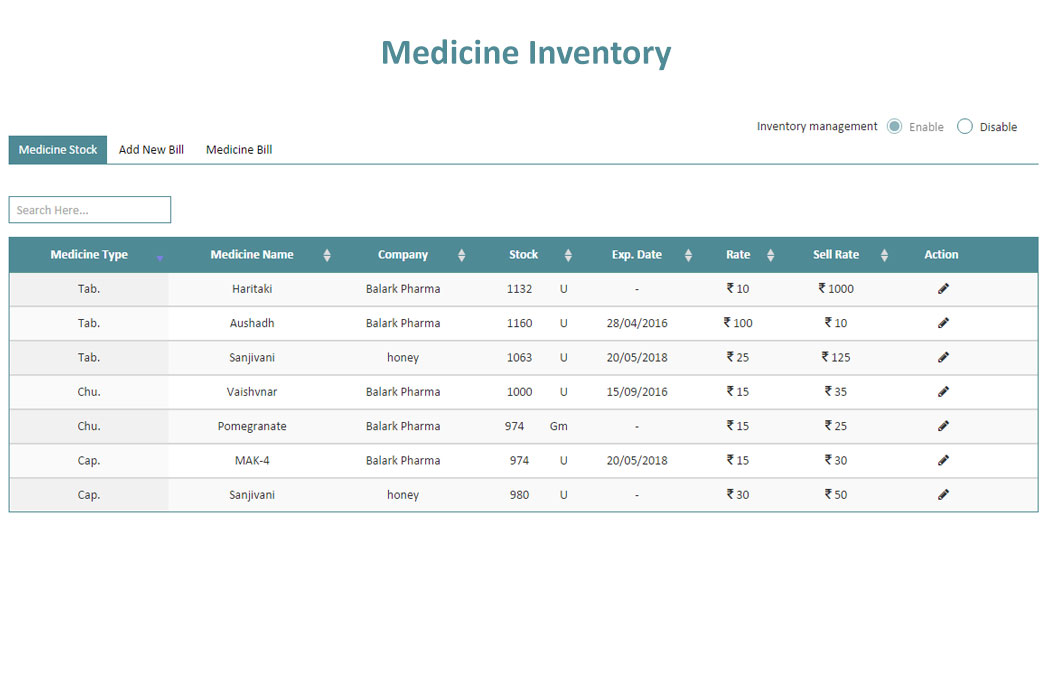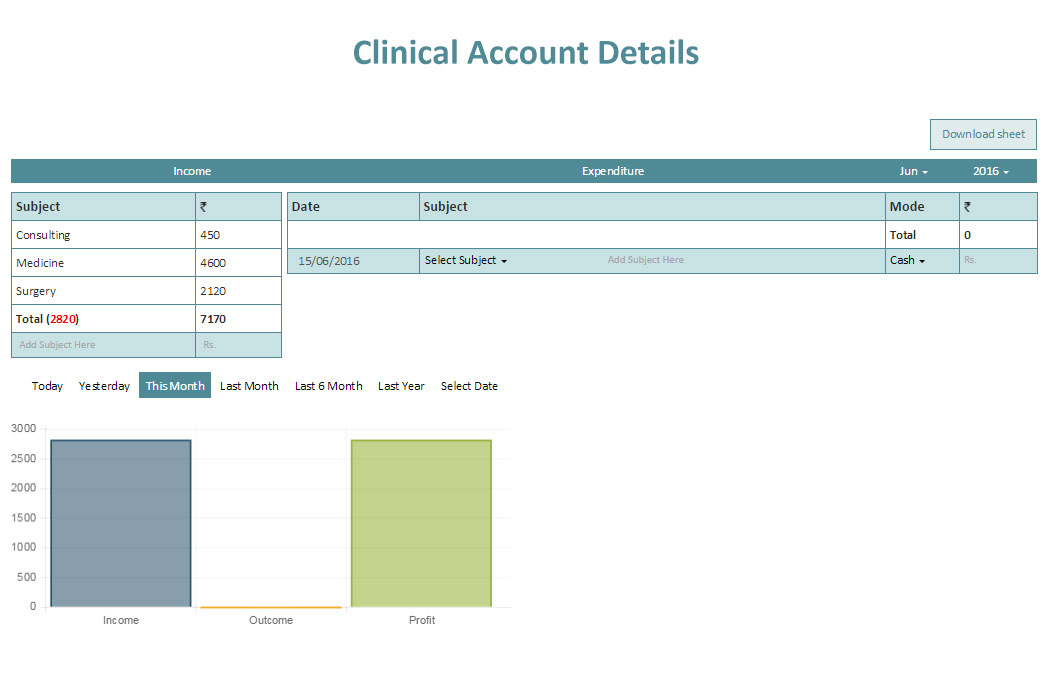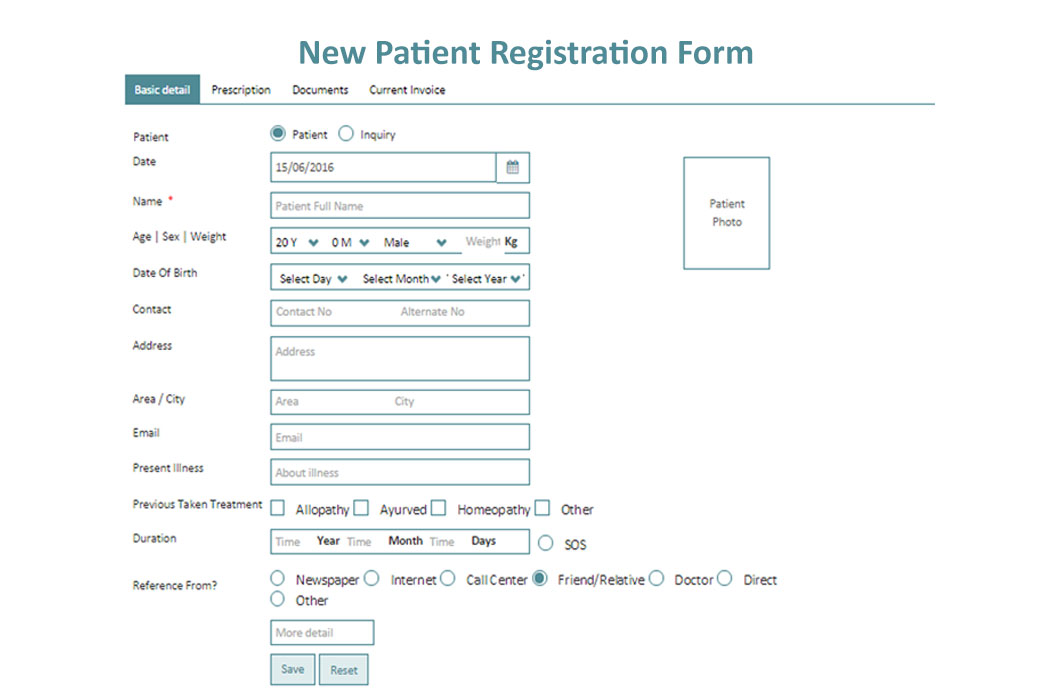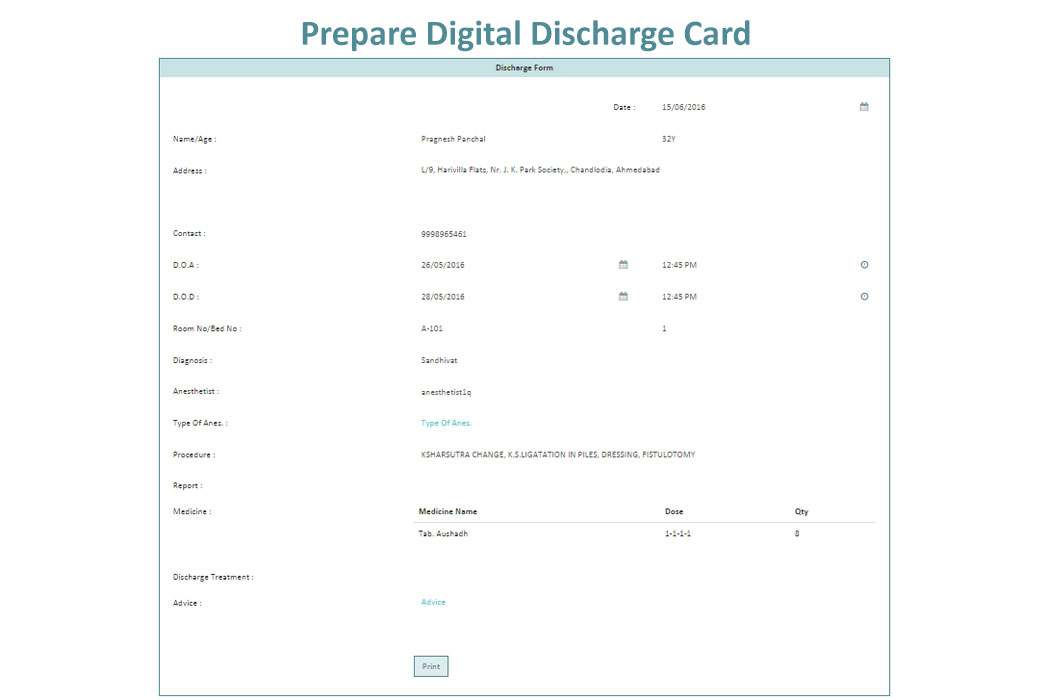 Interconnect all your departments.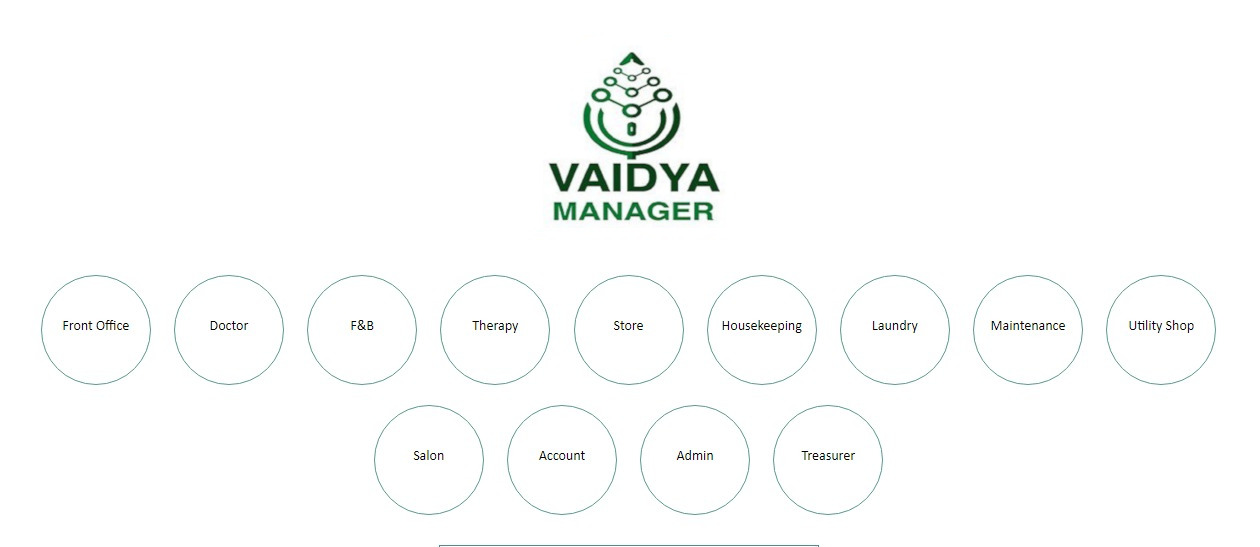 Save food cost by reducing waste, empower your chef with accurate information directly from prescriptions.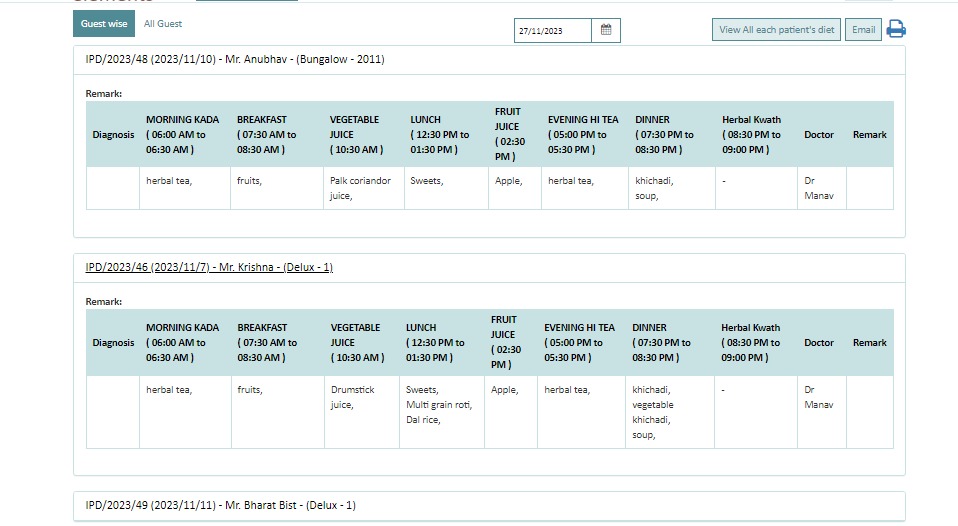 Auto schedule all therapies with push of a button based on room and therapist availablity.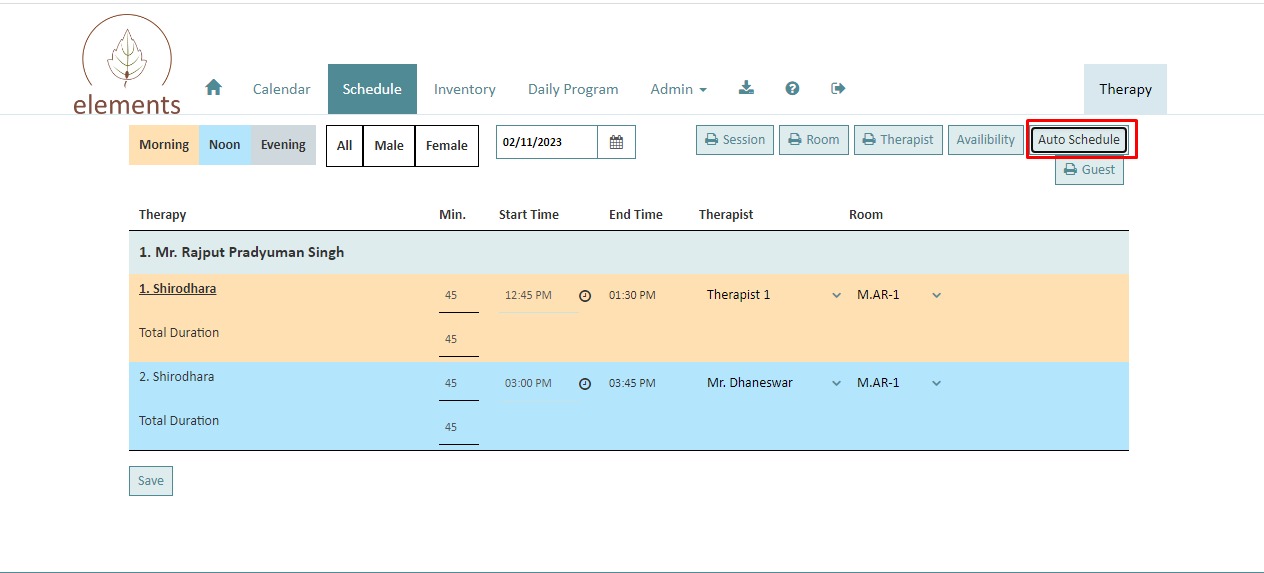 Centralize billing from check-in to check-out.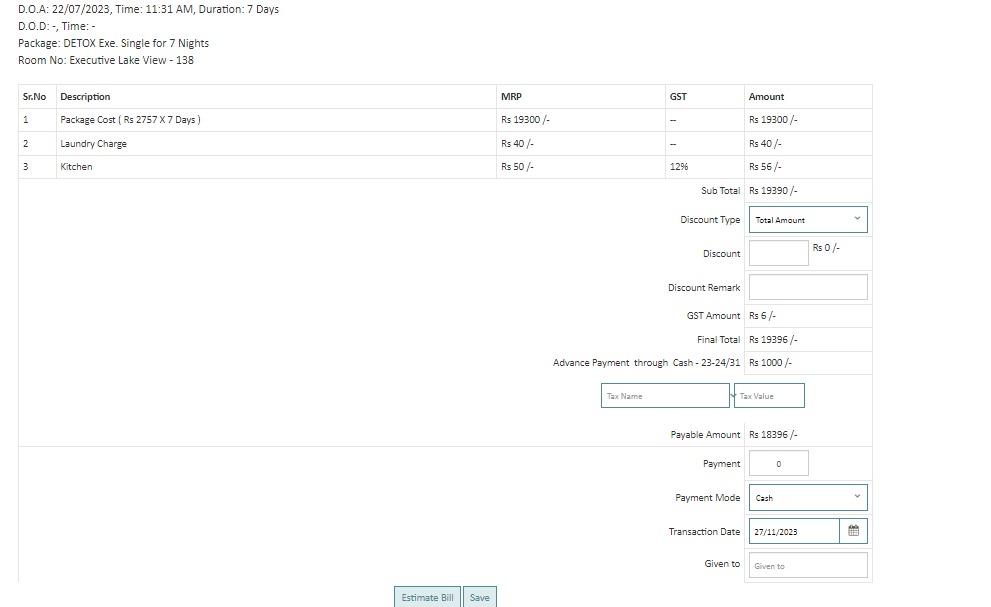 Room availability and booking management made easy.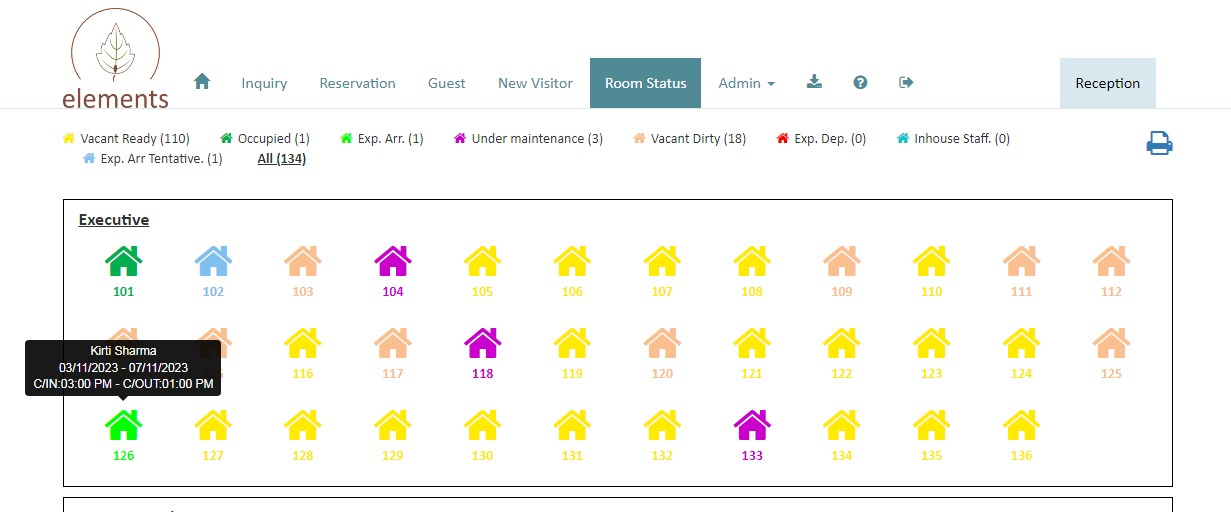 Generate department wise OPD reports.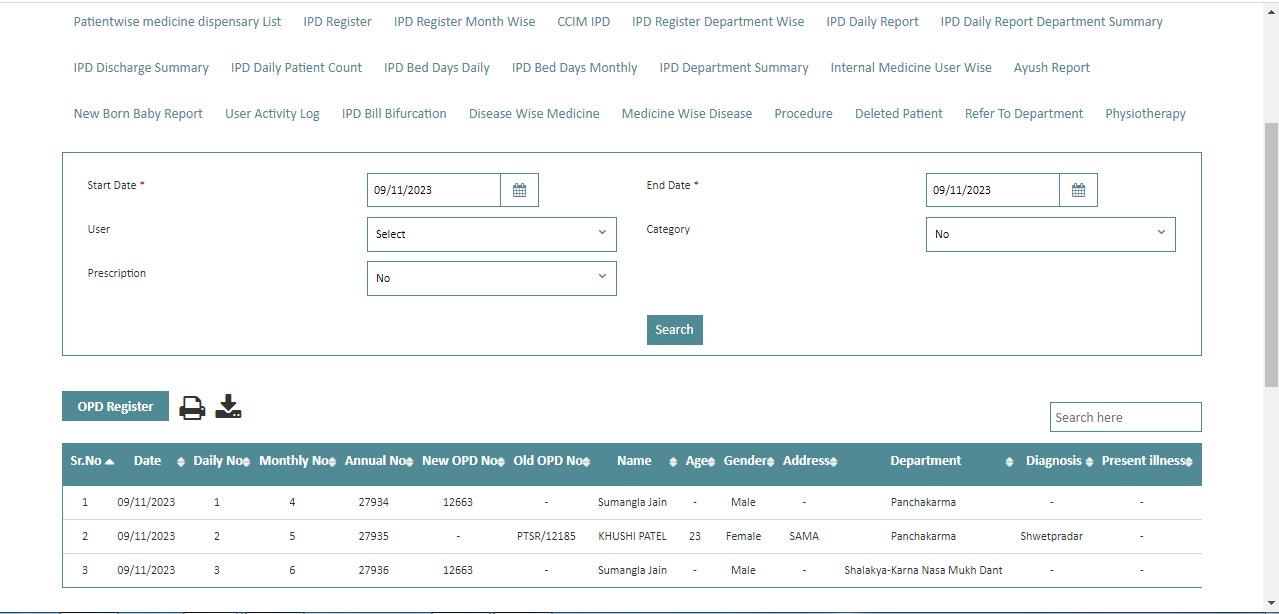 Get all required reports by AYUSH making compliance easier than ever.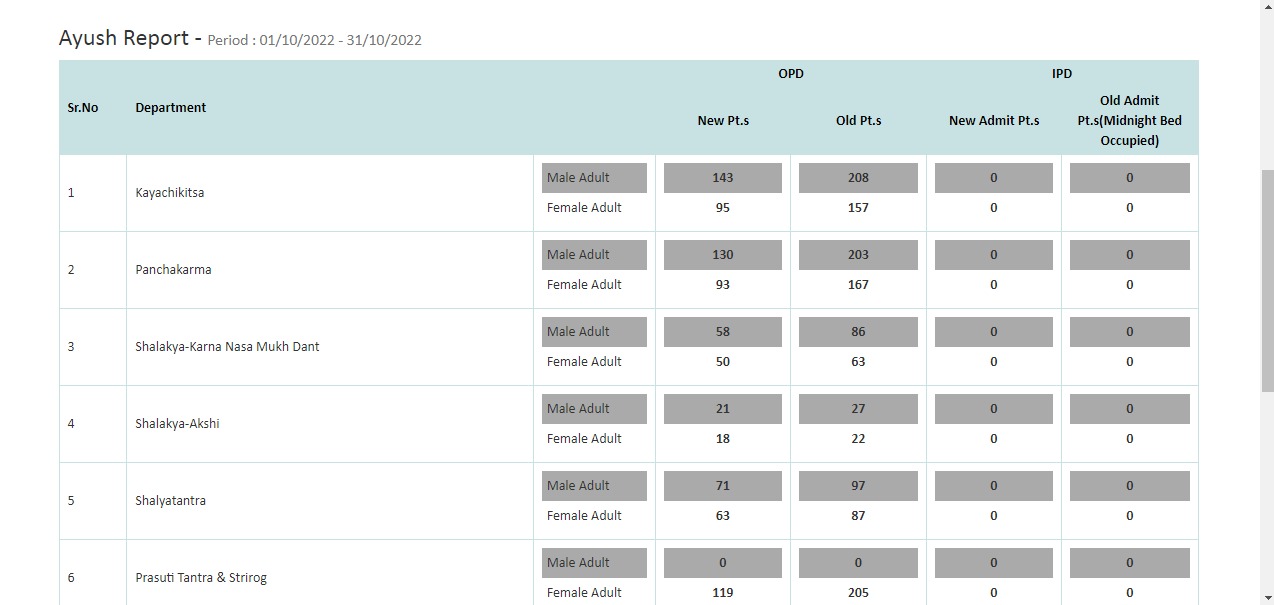 Get medicine alerts and inventory management with our system.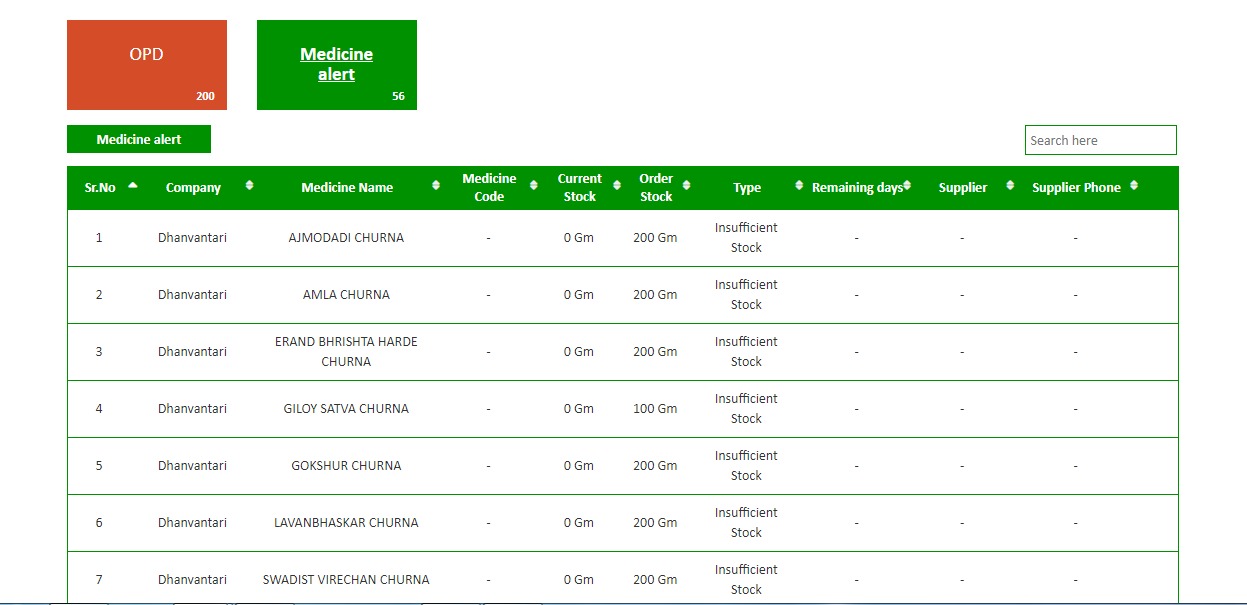 Generate discharge summary and reports for IPD patients easily.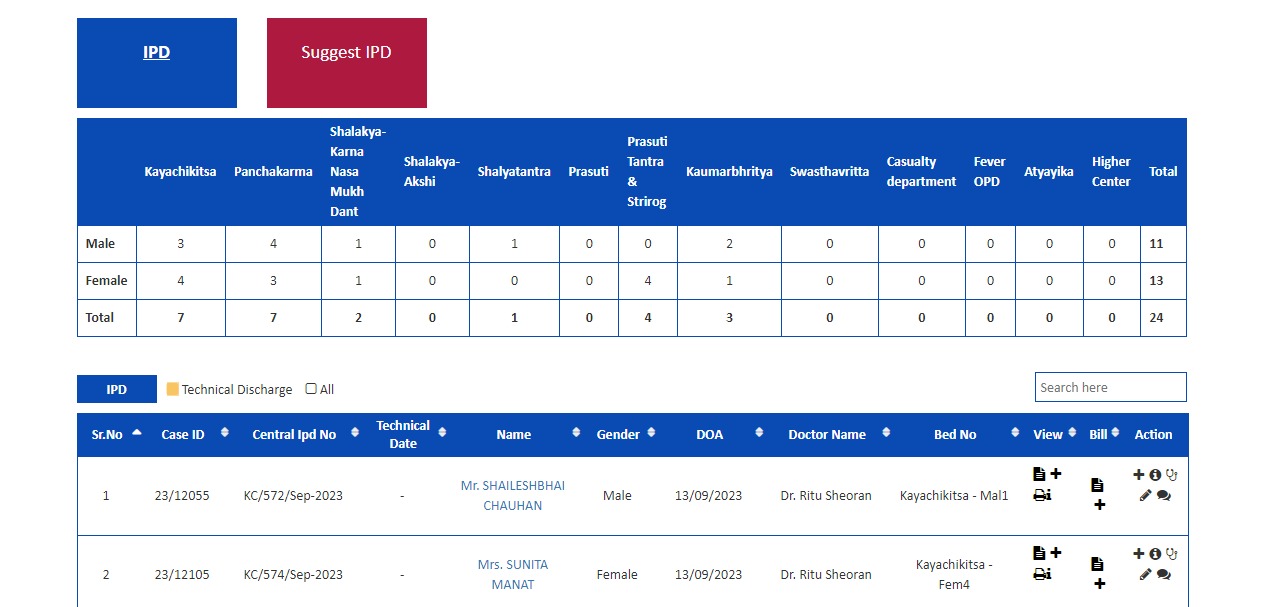 Prescription management system with more than 50000 medicines, symptions, diagnostics pre-filled.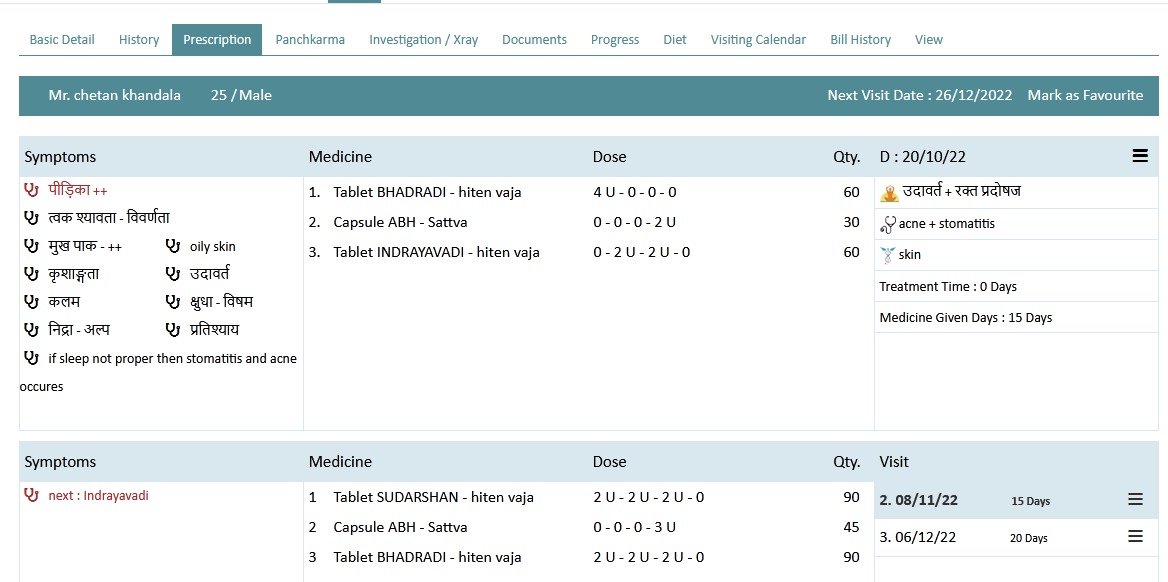 Create new prescription by drag and drop from previous prescription.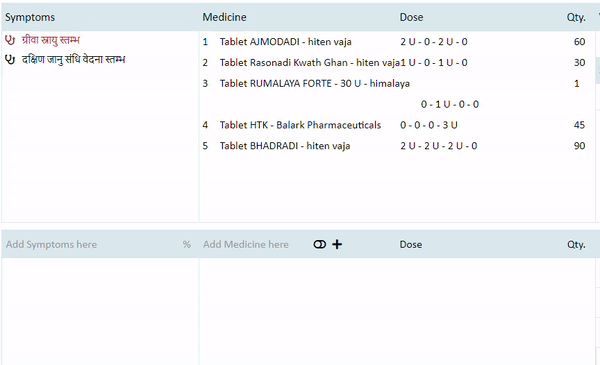 Generate discharge summary and reports for IPD patients easily.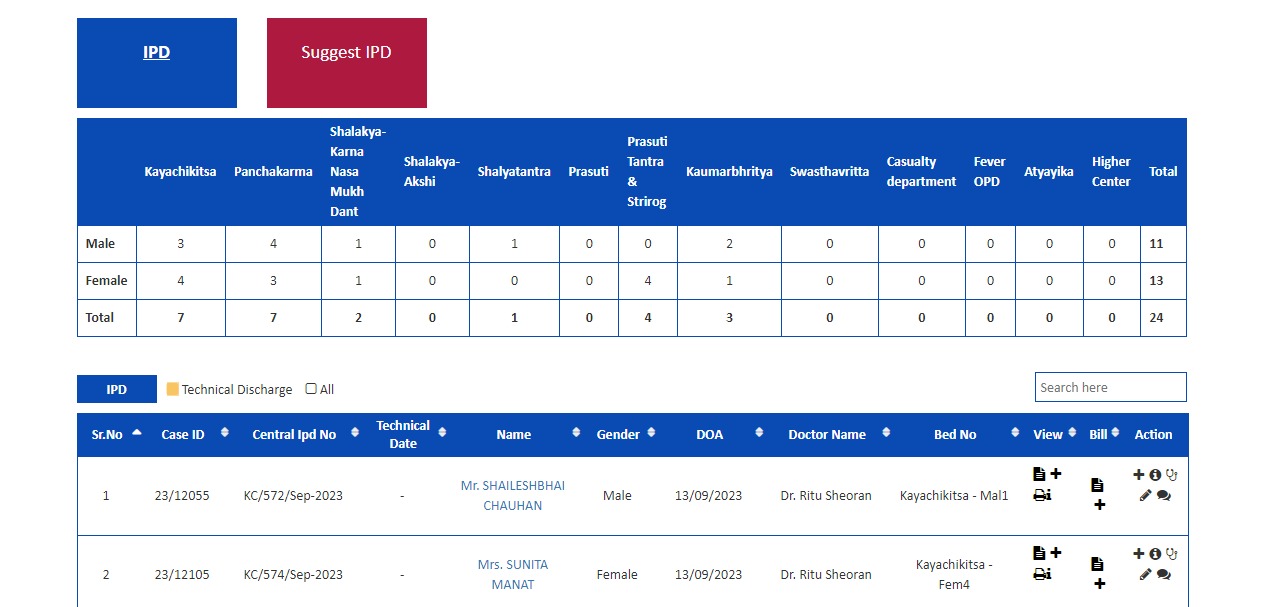 Manage Store inventory with easy.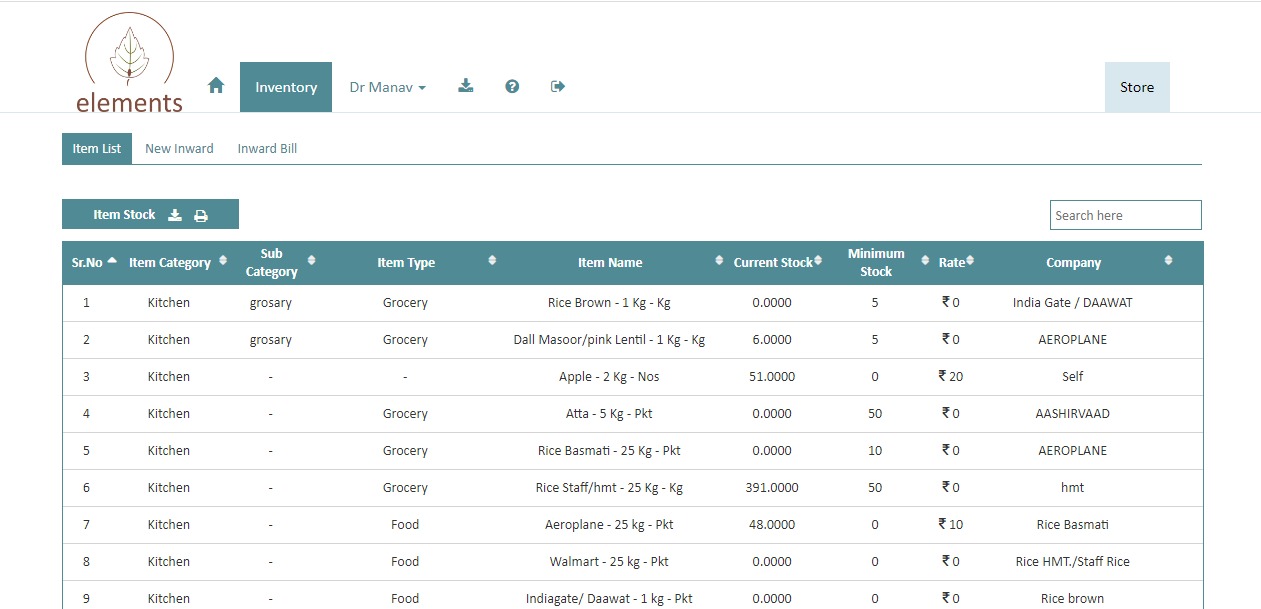 Schedule Therapy and Panchakarma with ease.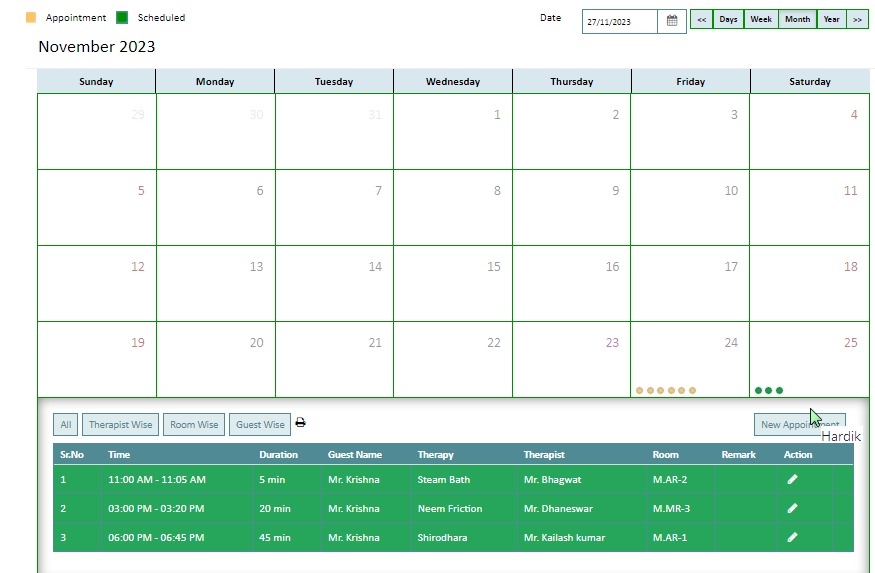 Prescribe diet for each patient based on treatment.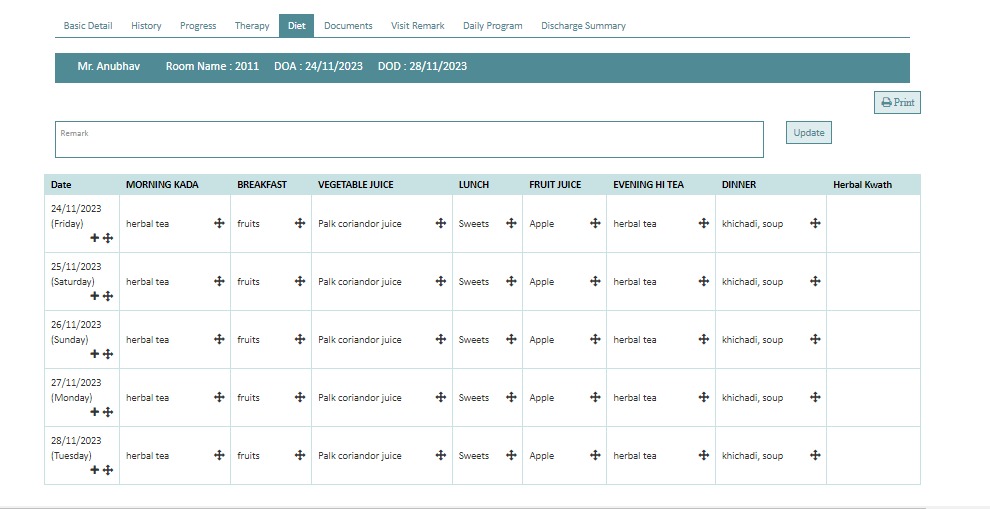 Manage Store inventory requests with approval mechanism.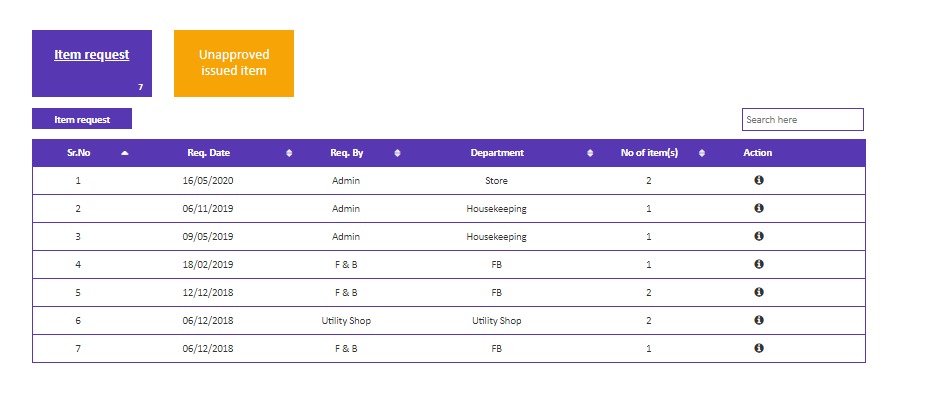 Schedule a FREE demo to see how it works?
Interested in exploring the system? Get an online demonstration session to see how digitalization can help you, before you buy.
Why Vaidya Manager
A digital solution designed by Ayurveda Doctor for Ayurveda industry.
Carry your patient data
Thanks to our online application, you can view your patient data in your mobile device instantly.
Approach thousand patients with one click
Deliver your message to all your patients with a click of a button. No more wasting time calling them individually.
Keep in touch with patients
Easily inform your patients about new products, services and holidays with our system.
View your clinic performance
Get a clear picture of your profit and loss, that is updated instantly.
Monitor daily diet
With Vaidya Manager, you can prescribe and monitor daily diet of your patients.
No more guess work
Get a proper list of patients that are expected to visit your clinic for follow ups and be on top of the ones that miss.
Maintain Patient History
With our cloud based system maintain patient data for many years.
Multiple branch data in one place
Access your multi branch patient data in single secure place and make it available from anywhere.
Analyze before and after treatment
With all vital data available at your finger tips, monitor before and after treatment conditions to take informed decision.
Schedule a demo
Get a online demonstration of how our application can be useful for you.
Ayurvedic Clinic / Hospital
15
lakh+ registered patients
400
doctors+ use our platform daily
7
years+ experience in industry
Pricing
Afforable pricing for small startup clinics to established multi branch hospitals
Basic Plan
Patient Management
Prescription Management
Patient Billing
Basic Inventory
Basic Reports
Support Tickets
Choose Plan
Regular Plan
Patient Management
Prescription Management
Patient Billing
Full Inventory
Inventory Reports
Support Tickets & Calls
Choose Plan
-
On-site Plan
Patient Management
Prescription Management
Patient Billing
Full Inventory
Inventory Reports
On-site & Call Support
Contact Us
Dr. Mahesh Birla
OJUSAYURVED, Jalgaon Maharashtra
Hello friends, I'm Dr.Mahesh Birla .. practicing Ayurved for last 24 years at Jalgaon Maharashtra.I am using software for my hospital "OJUSAYURVED" which is made by Team Ayursattva since last 2 years.My personal experience for this software is fantastic ! Backup is perfect and we can ask any query any time , reply is very fast.Team Ayursattva is very cooperative n updates of software is very regular from them. I request all of you to start your paperless opd with the help of Ayursattva.thank you very much team Ayursattva n Jaydipsir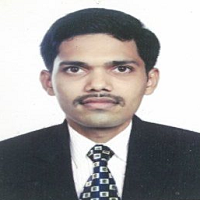 Dr. Dushyant Sudam keny
M.D.Ayurved (Arogyamandir, Ayurveda Clinic and Panchkarm Center, Shree Dhootpapeshwar Ayurveda Trust)
Our company installed vaidya manager software in our clinic around 3 months before i. e. In the month of August, 2018. Till date, I personally find this software very handy, easy to operate. It almost covers all modern as well as ayurvedic points of patient examination. As far as prescription is considered, along with compound Dr medicine it also provides access to combination therapy. Patient panchkarma appointment along with concerned therapist details are another special service that vaidyamanager provides through this software. Diet both cutomazide or randomised can be prepared. Taking into consideration of all these aspects, I find this software truely customer friendly which will surly add value in ayurvedic healthcare sectors. Thank you.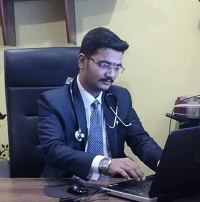 Dr. Akshay Choudhary
Samarth Ayurveda
I am using Vaidya Manager since 1 year ,Already a big fan of Sattva Team who is very creative as well as supportive ,Can't point out a single disadvantage of the system ,Everything needed for a Vaidya under one roof which keeps upgrading day by day ,Saves a lot of energy , time & money, Thanx Sattva

Dr. Chandrakumar Deshmukh
Shri Vishwamurti Ayurved Chikitsalay, Pune
Initially before using it was very annoying work of maintaining all patients data and followup also,and this troublesome usually used to increase in taxation timing in march ending but this fantastic software with app made my mind very relax and now i can concentrate only on perfect treatment rather than data maintenance and other headache because vaidyamanager online software helps me everywhere every time even when im out of town. thank you vaidyamanager.

Dr. Ankush Gharal
Shri jeevanamrut Ayurvediya Chikitsalay, Maharastra
This software is very easy to handle & it help me to keep records of patient with respect of Ayurveda principles and the inventory section is very good designed and helps to keep record of medicines. Overall I am happy to have it .

Dr. Abhay
Jivanand Clinic, Mumbai
I never missed my patient whenever I want to follow up, I can be by this system.

Dr. Dipal
Honey Ayurved Clinic, Baroda
My inventory management headache is gone now.
Dr. Arun Vaghela
Amrut Ayu Care, Bhavnagar
My patient follow up has been increased 40% by this unique SMS alert system
Frequently Asked Questions
Please find answers to your questions or else feel free to get in touch with us.